Welcome!
We are excited to welcome you to the Homes On Wheels Alliance (HOWA) website!  At HOWA, we're not just an organization; we're a vibrant community dedicated to enhancing the lives of nomads. As a 501(c)3 charitable organization, our mission is clear and impactful — we're here to help nomads-in-need make their mobile lifestyle functional, all while providing a supportive community to be a part of.
Our passion reflects in meaningful programs like the Nomad Emergency Fund and Improvements to Vehicle-Homes. However, it's more than just assistance; it's about creating lasting connections and fostering a culture of kindness and compassion. Experience the joy of community, fun, and knowledge-sharing by joining us at our Caravan Camps, Virtual Caravans, and the unforgettable Rubber Tramp Rendezvous.
To truly understand what sets us apart, dive into our blog and explore our engaging videos. For discussions and the latest updates, join our lively our Facebook Group community. Your journey with us can go beyond exploration — consider becoming a valued volunteer or donor, and be a part of something truly special. We're thrilled to embark on this incredible journey with you!
Sincerely from the Co-Founders,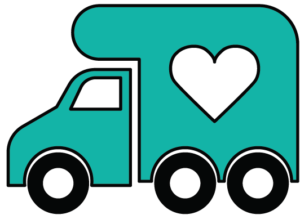 Bob Wells, President
Suanne Carlson, Vice-President/Executive Director
OUR MISSION
Together we are changing lives, building supportive community,
and preventing homelessness one person at a time.
Who Are We?
Homes On Wheels Alliance, Inc. (HOWA), a charitable 501(c)3 nonprofit organization, strives to help a significant portion of the American population who are being squeezed between the rapidly rising cost of shelter on one hand, and either stagnant wages or too-small of a retirement on the other. Through no fault of their own, they are at serious risk of losing their homes and apartments. We serve this community by providing:
Basic goods and supplies to help make vehicles into functional, safe and secure dwellings,
Transition assistance into a financially- and environmentally-sustainable mobile lifestyle,
Events and gatherings to connect with the nomadic tribe, to know they are not alone, and
Opportunities to give back and improve the lives of other nomads, area communities, and our public lands.
What We Believe:
We believe that an "alliance" can be effective and should consist of:
The larger mobile community,
Individual donors,
Government (local, state and federal),
Private businesses and industries, and
Various nonprofit organizations.
How We Work:
By combining our energies, resources and good-will into a united front, we make a significant impact towards alleviating the homeless problem and allowing our clients to remain contributing citizens.  In doing so, we help them regain their confidence, preserve their independence, self-sufficiency and dignity. Acting together, we believe the future can be bright for all of us!
---
Some thoughts and musings from the Homes On Wheels Alliance Staff and Friends.
How You Can Help.
It is no secret that there is a growing proportion of the country that cannot pay rent, pay for food and medications on the money they have each month.
Homes On Wheels Alliance, Inc. is a 501(c)3 nonprofit organization that focuses on safe and secure mobile housing to those in need, helping them get back on their feet. This enormous undertaking succeeds only through the efforts of volunteers, donors, and organizations that want to change lives and make a difference.
Click here to volunteer or on the button below to donate.
Please click here to find other ways you can support the Homes On Wheels Alliance Programs.