Virtual Caravans

The Virtual Caravans are weekly Zoom discussions about the nomad lifestyle. The Virtual Caravan meetings are an opportunity to join and build community for those unable to attend HOWA's in-person events.     
Virtual Caravans Offered (all are PACIFIC times) —
Sunday at 8:30AM — Women's
Sunday at 10:30AM — Men's
Sunday at 4:30PM — All Gender
Tuesday at 4:30PM — All Gender
Thursday at 4:30PM — All Gender
FORMAT:
First 30 minutes is open discussion, focused on the nomadic lifestyle.
Next 60 minutes is discussion managed by a volunteer facilitator with a specific question for consideration.  Participants raise their virtual hand to take turns responding to the question of the hour.
Last 30 minutes is open discussion, focused on the nomadic lifestyle.
Thoughout the 2-hour meeting, an optional text chat is active to ask related questions and to share pertinent information.
We are inclusive.  Divisive topics and discussions are not allowed in the Virtual Caravans.
Attendance is typically between 15 to 50 participants, with an average attendance of 30-40.
RSVP for each Zoom Virtual Caravan is done within Meetup.  Once an RSVP is completed, the participant will get the Zoom link to attend that Virtual Caravan at the designated time.  Here are the steps to get signed up.
LOG IN TO MEETUP:

If you have used Meetup.com in the past for other reasons, then you can use that same Meetup.com account for the Virtual Caravans, OR

JOIN the private CARAVAN GROUP within MEETUP

Click the

"

Join this group

"

button.

 

After joining the Group, you are a member.

Use the dropdown selections under the "Member" button to create a user profile.

SIGN UP for the VIRTUAL CARAVAN(s) YOU PLAN to ATTEND

RSVP to the desired Virtual Caravan(s)

Click the "Attend" button for the meeting you want to join.

A new window opens up with details about attending the event.

 

After reading the information, click on the

"

Attend Online

"

button. You have now RSVP'd for the meeting.

 

If you've given Meetup permission to email you, then you will get the Zoom link to the meeting in your email, OR
At the time of the meeting, return to this Virtual Caravan in Meetup to click on the Zoom link within the meeting information or within the Comments section.
DOWNLOAD the ZOOM APP to PREPARE for YOUR FIRST VIRTUAL CARAVAN
Make sure you have a good Internet connection.

Go to

https://zoom.us/download

 

Download the Zoom App to your laptop and other Internet-connected devices that you will use to join the Virtual Caravans.

 
ATTEND A VIRTUAL CARAVAN
Make sure you have a good Internet connection.
Click on the Zoom link in the Virtual Caravan that you signed up for.
The Zoom app will open; follow all prompts.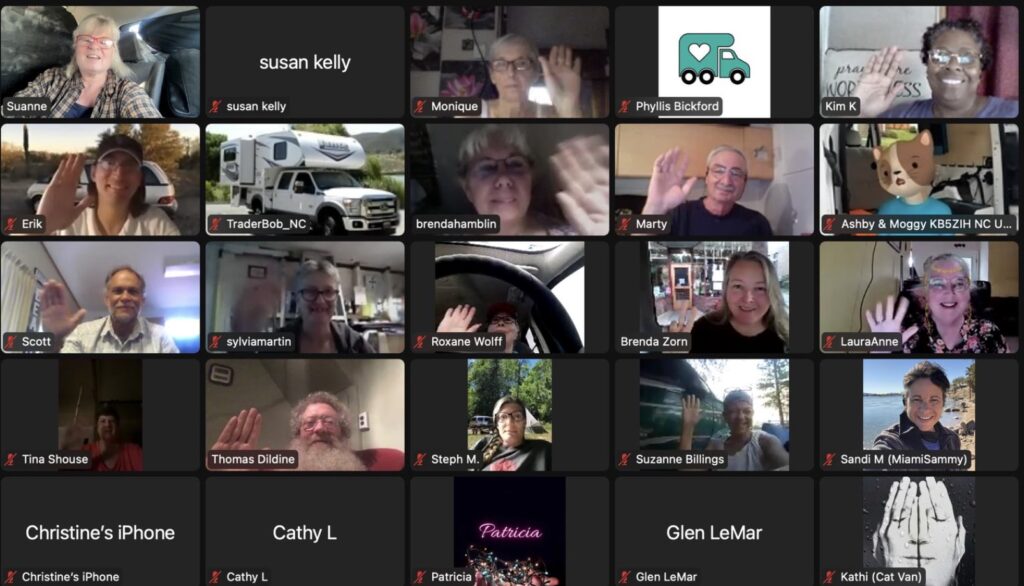 For more information or questions about the Virtual Caravans, email HomesOnWheelsAlliance@gmail.com.
Consider providing your financial support for the Virtual Caravans at this link.